Treat yourself to an island escape along the Turkish Riviera
Peninsula Paradise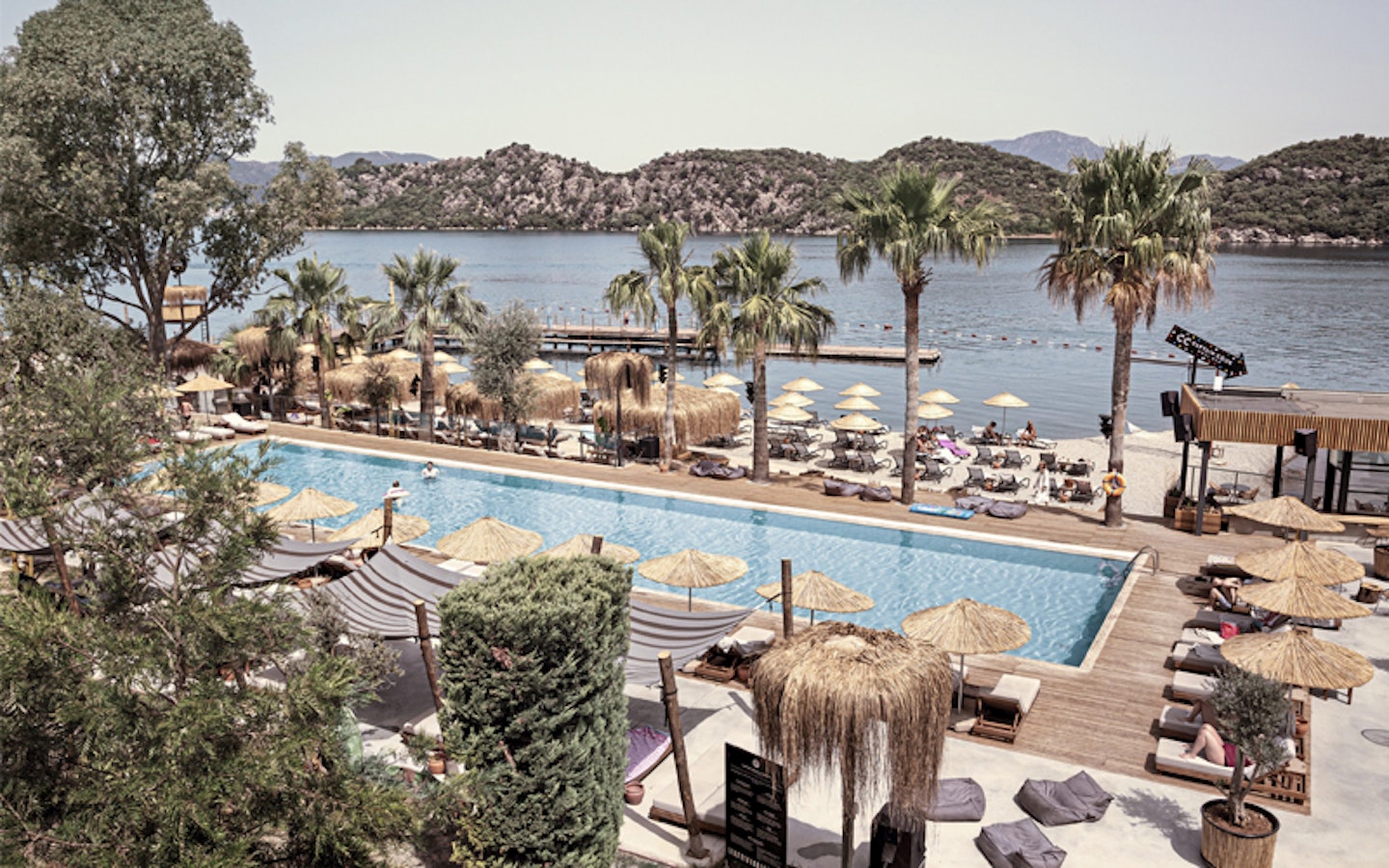 Marmaris is a stunning resort along the Turkish Riviera, which is also known as the turquoise coast. This beautiful Mediterranean town sits in a valley between pine forested mountains and clear waters.
Positioned on the sun-drenched Adakoy peninsula you will find stylish Cook's Club Adakoy. It's the perfect place to disconnect from the world and recharge. With a private beach on your doorstep and Captain Cook's bar just a few feet away, get ready for your stresses to melt away as you sip on locally sourced beer and wine.
This upscale, adult-only resort is surrounded by gorgeous views of the Mediterranean Sea as well as the rolling hills of Marmaris National Park. Stylish rooms (think boho chic), a private beach and friendly locals await – get ready to meet the luxurious side of this port city.
Peace and Zen
Sunrise yoga is a must at this beautiful resort. Taking place over Adakoy's sea dock, breathe in that fresh sea air and exhale. Specialist instructors perform either Hatha, Yin or Kundalini Yoga. You don't have to be a pro either, as classes are designed for all experience levels.
If yoga's not your thing, why not try canoeing around Bedir island? This nearby enclave boasts lush greenery, scenic cliff faces and even a few goats! Or, start your morning with a brisk hike led by hotel manager Sevki, where you can reach the highest peak in Adakoy before venturing down below to Nimara cove, which is great for any geology fans who can admire an awe-inspiring display of stalactites and stalagmites.
Feeling exhausted after your hike? Head straight to the spa for some rest and relaxation. Let your worries melt away as you indulge in a hot stone massage or try the authentic Turkish bath experience in the newly built hammam.
A hidden gem
Make sure you take full advantage of the resort's water taxi, which runs seven times a day and takes you into the heart of Marmaris. Discover Marmaris' history and stand where Sultan's such as Suleiman the Magnificent once stood, taking in unrivalled views of the town, Bedir Island and of course, Adakoy. Once you've had your fill of history, take the long route back to the port and explore Marmaris' whimsical, winding streets, but make sure to watch out for the Evil Eye.
This supernatural belief about jealousy is prevalent in Mediterranean culture. Luckily for you, "Nazars" – eye-shaped charms which are believed to ward off the curse – are dotted throughout the town. Find them in street cobbles, hanging on a line between houses, or encrusted into brickwork. As you wait for the water taxi, why not sample the local cuisine? Local cafes and marketplaces offer up local delicacies, such as olives and almonds. Speaking of...
Food & Drink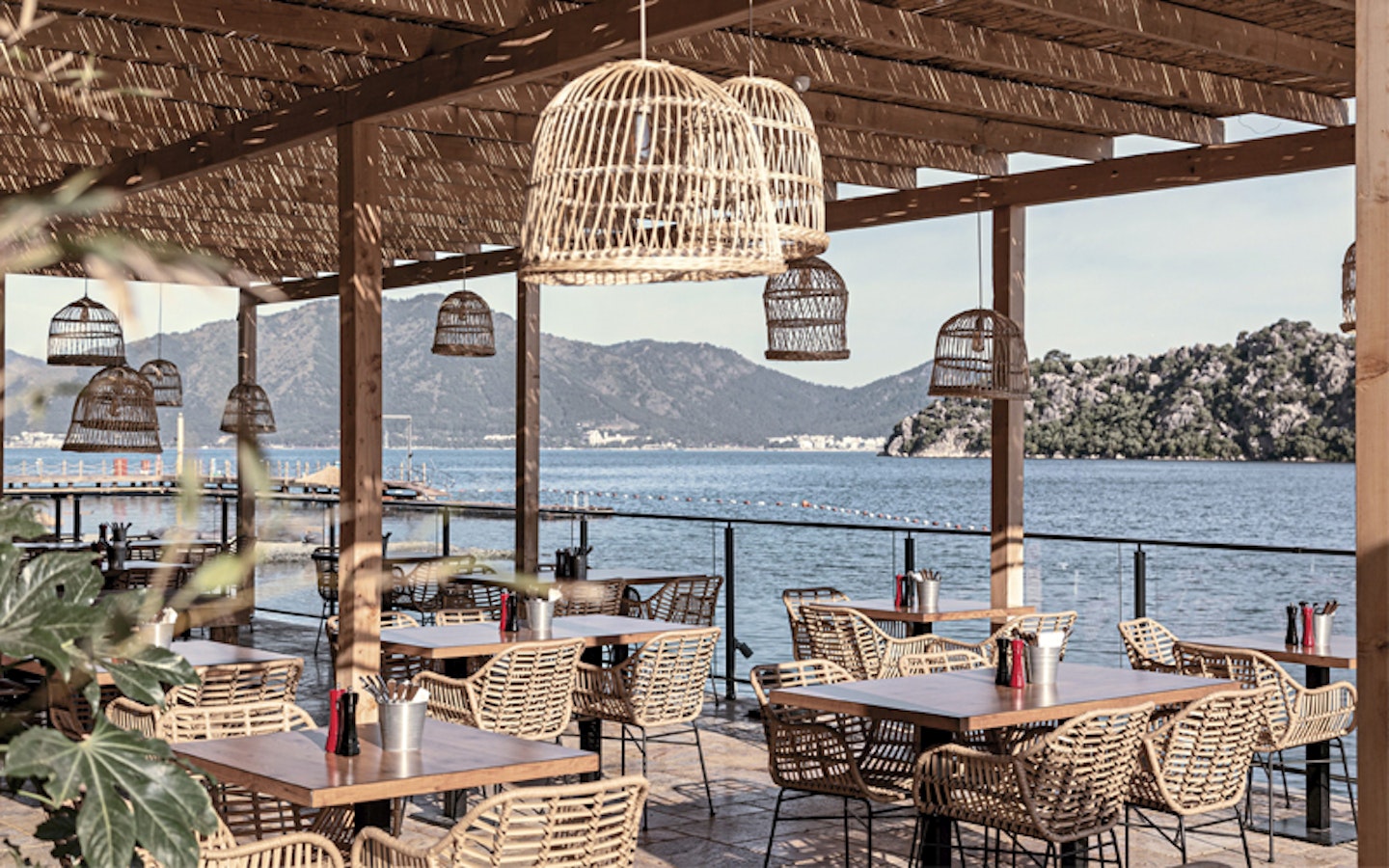 The Cantina restaurant at Cook's Club operates a zero-waste ethos, so there's no all you can eat buffets here. Food is made to order right in front of you at one of seven live cooking stations.
The menu is varied, offering local and international flavours as well as a vegetarian option. In the mornings, there's no need to sweat about missing your caffeine fix, with Turkish coffee on offer as well as lattes and the ever so indulgent affogato – that's coffee served with ice-cream! Pair it with a Turkish simit, a circular bread covered in sesame seeds, for a truly local experience.
If you prefer to eat out in the city, Marmaris offers a wide selection of restaurants. Just make sure you don't overload on mezze and save room to try the region's speciality, seafood.
Once you're ready to wind down your evening, why not try out a cocktail-making class? Become a mixology maestro and remember to keep a mental note of the recipes to show off to your friends back home!
Need to know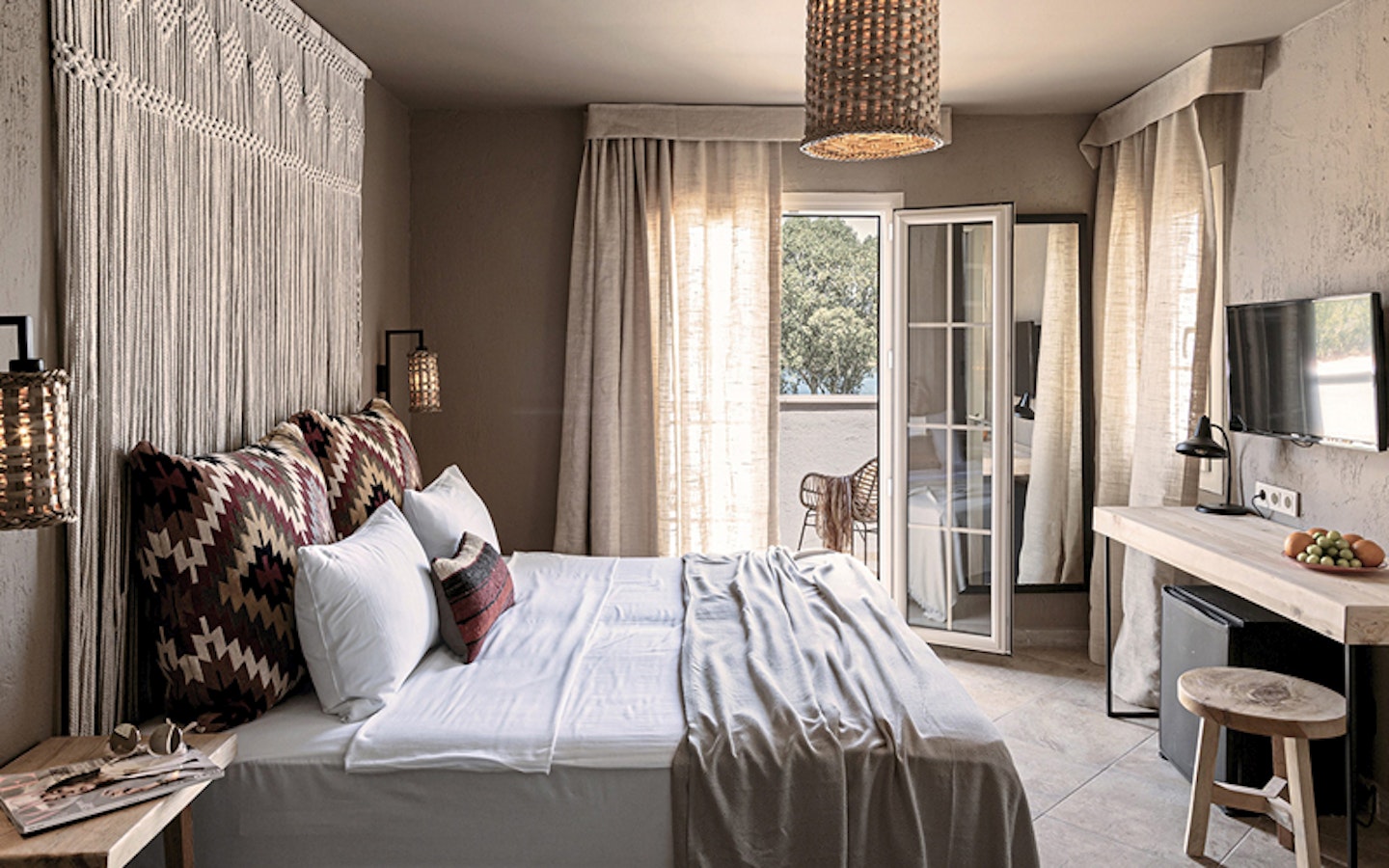 A stay at Cook's Club Adakoy starts from £117 per night for two guests. Book online at Cooksclub.com/en/cooks-club-adakoy-marmaris-turkey .

Choose between the Breakfast & Dinner package or go all-inclusive with the "Feel Free" concept, which includes breakfast, lunch and dinner along with a selection of local wines, beers, spirits and soft drinks.

Yoga classes and hikes to Nimara Cave are free to all guests.

Water sports start at £7, a cocktail class is £30 per guest, and spa treatments begin at £33.

Marmaris is just a 20-minute taxi away via land or sea. Sea taxi costs £3.90 for a one-way trip.
Words: Charlotte Partis Nelson