Good wine, excellent food and tranquil beaches are within touching distance
Why should you go?
Over the years it's had a reputation as a loud, drunken, Brits abroad party town. But dig a little deeper and there is more to Benidorm than high rises and Full English breakfasts. Of course, those things are there, but there's so much more to see if you know where to look. With just short drive from the nearest airport in Alicante you can have a gorgeous sun, sea and sand destination – you just have to find the right places…
Time to explore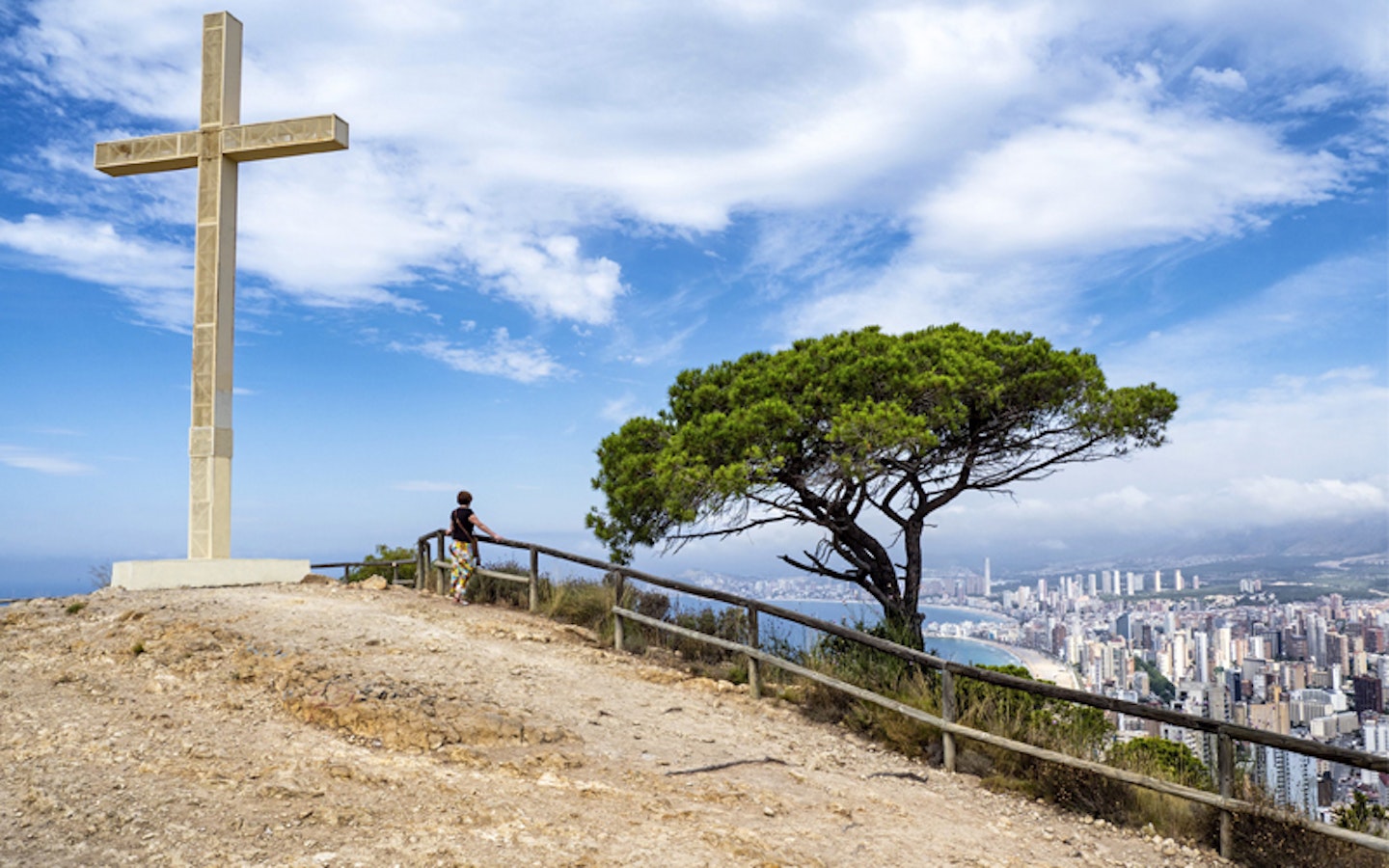 We'd suggest hiring an e-bike (€25 for a whole day, available throughout Benidorm) and seeing some of the stunning surrounding countryside. Just a short distance east of the strip, around a 20-minute cycle from the Old Town, is the lovely beach of Cala Alamdrada. Serene and calm, without the merest hint of a beach bar or tacky high rise, it's worth taking some snacks and wine and enjoying the tranquil waves crashing in. You could easily think you were on a desert island.
If you're feeling more energetic, a climb up the hill will take you to La Creu de Benidorm – a huge cross constructed by the town in 1961, which has gorgeous views in every direction. In the opposite direction to the west of town is the Tossal de la cala, which contains Roman ruins and is all translated into English, so it's easy to navigate. It only takes about an hour on foot along the beach from Old Benidorm to get there if you fancy a nice walk. It's not very busy so it can be a quite romantic day out for two. Of course, you are also just a short 40-minute drive (or taxi) away from Alicante, which is one of the most gorgeous cities in the area, full of history and vibrant night life. If you want to take a cultural trip, don't miss out on the Castillo de Santa Barbara, a stunning medieval fortification situated where the city originally stood, and the Basilica de Santa Maria, a 14th-century church which towers over a beautiful square in the Old Town.
Fabulous food and drink
For food, drink and entertainment, Benidorm Old Town has some real charm. Just off the Carrer Dela Santissima Trinitat is a small maze of traditional Spanish tapas restaurants. We enjoyed a delicious lunch of tapas, cod and a glass of wine for just 11 euros! There's plenty more bars and restaurants around here to choose from, all serving traditional and affordable food. In addition to being the home to Benidorm's gay scene – it's worth checking out a hilarious drag show should you feel so inclined – there are plenty of small wineries serving local tipples at bargain prices. We paid as little at €1.50 for a glass of tasty, locally produced wine.
Where to stay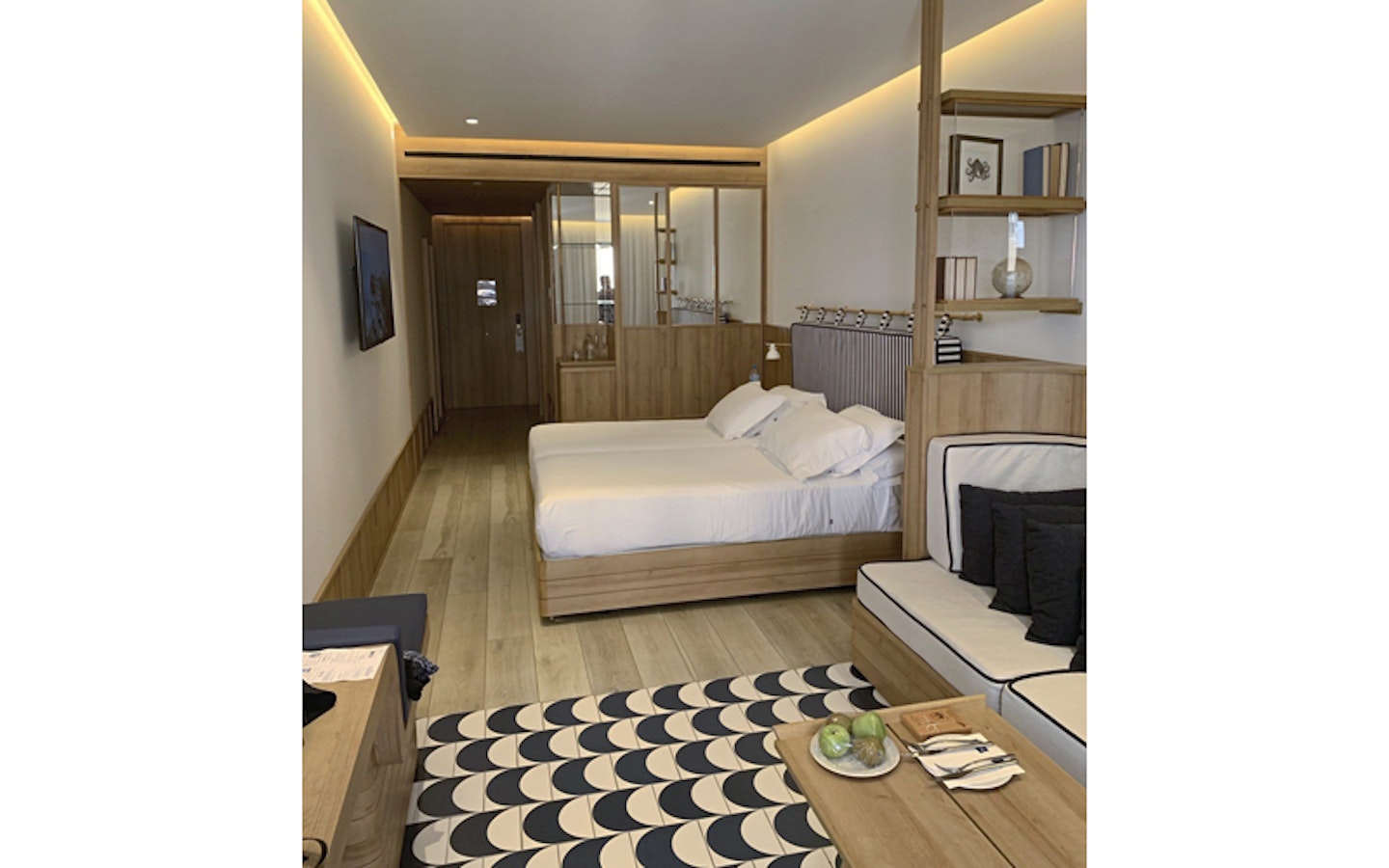 For our weekend visit, we stayed at the gorgeous 4-star H10 Porto Poniente. It's a stone's throw from Benidorm's Old Town at the much quieter Platja del Mal Pas. On arrival you are greeted with a glass of traditional Spanish cava, and the friendly staff will explain how everything works. With a spa, a rooftop pool overlooking the beach, a really good buffet breakfast and dinner and gorgeous, modern, well-designed rooms – most often with a sea view from the balcony, it's a divine place to stay. Breakfast has a huge variety from continental to cereals and yoghurts, but dinner is where they really excel. Gorgeous local fish, traditional Spanish pork dishes as well as varied salads, pastas and desserts are plentiful. The spa was amazing. Small but perfectly formed, there is a steam room, gorgeous pool and jacuzzi, ideal for an afternoon of relaxation.
Despite Benidorm's traditional reputation for being a British favourite, our hotel was full of friendly, chatty Spanish people, meaning you truly feel like you are getting away from it all.
Need to know
We booked our trip using Booking.com, and the H10 Porto Poniente costs £109 per night. In addition to your hotel, you can also book many local tours and experiences using Booking.com on any device.

There are 379 direct flights from the UK to Alicante a week, making it one of the most desirable places to visit in Spain. Our return flight from London to Alicante cost £115 with Jet2.com.

From November 2023, British passport holders between the ages of 18-70 to an EU country will need to pay a small fee via the European Travel Information and Authorization System. It needs to be done 96 hours before departure. Please check with your airlines, online or holiday company for details.
Words: Stephen Leng